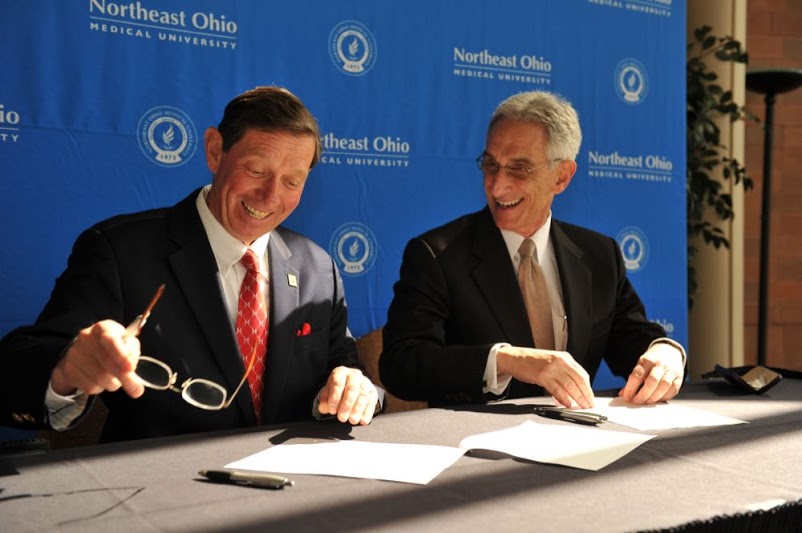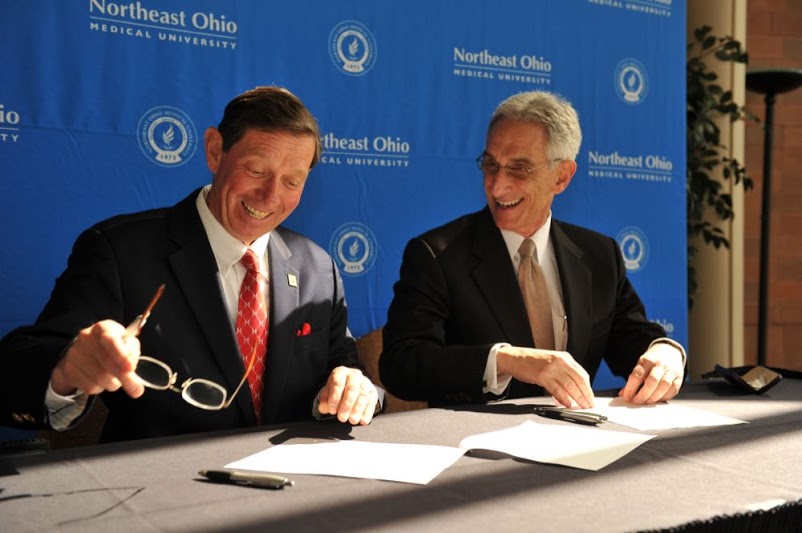 The presidents of Miami and Northeast Ohio Medical School enjoy a laugh after signing an agreement
Photo: NEOMed staff
Jun 17, 2013
Miami and Northeast Ohio Medical University together create Miami-NEOMED Baccalaureate to MD Pathway Program
Really cool path to med school
Update, September 2016: As of this date, Miami and NEOMED representatives have not agreed on details of this program. It is unknown if the program will be implemented in the future.
Original story:
Miami University and the Northeast Ohio Medical University (NEOMED) have established the Miami-NEOMED Baccalaureate to MD Pathway Program to identify and support future medical school students starting in their middle- and high-school years.
The focus of the Pathway Program will be aligned with Miami's mission and NEOMED's three-fold mission emphasizing primary care, medically underserved populations, and diversity in health care. The agreement recognizes Miami's exemplary record of educating and graduating undergraduates for successful admission to and completion of medical school.  
"Miami University has a reputation for graduating stellar, well-rounded students who excel academically and have a strong sense of commitment to their communities and serving those in need," said Jay A. Gershen, NEOMED president. "The addition of Miami to our cadre of partnerships will surely enrich the NEOMED community as we begin to work together to actively facilitate the pathway program."
The two universities will begin this year to identify academically qualified students in Ohio a) with an emphasis on medically underserved areas, b) who desire to pursue a medical doctor degree, and c) who are interested in providing primary health care or serving medically underserved populations upon completion of the Pathway Program. School officials anticipate the program will yield up to five students per year beginning in fall 2014.
"Miami's graduates will gain crucial knowledge learning from the internationally recognized medical researchers and educators on NEOMED's faculty. NEOMED has a remarkable commitment to, and success in, providing primary care medicine, especially for underserved populations. We are very excited to join with NEOMED in recruiting and preparing students to enter these critical fields and serve some of our most needy communities," said David C. Hodge, president of Miami University.
Miami and NEOMED will work together to make pre-college experiences available to participating middle and high school students.  It is anticipated these experiences will include several existing and newly created opportunities at Miami and NEOMED.
Northeast Ohio Medical University is a community-based, public medical university.