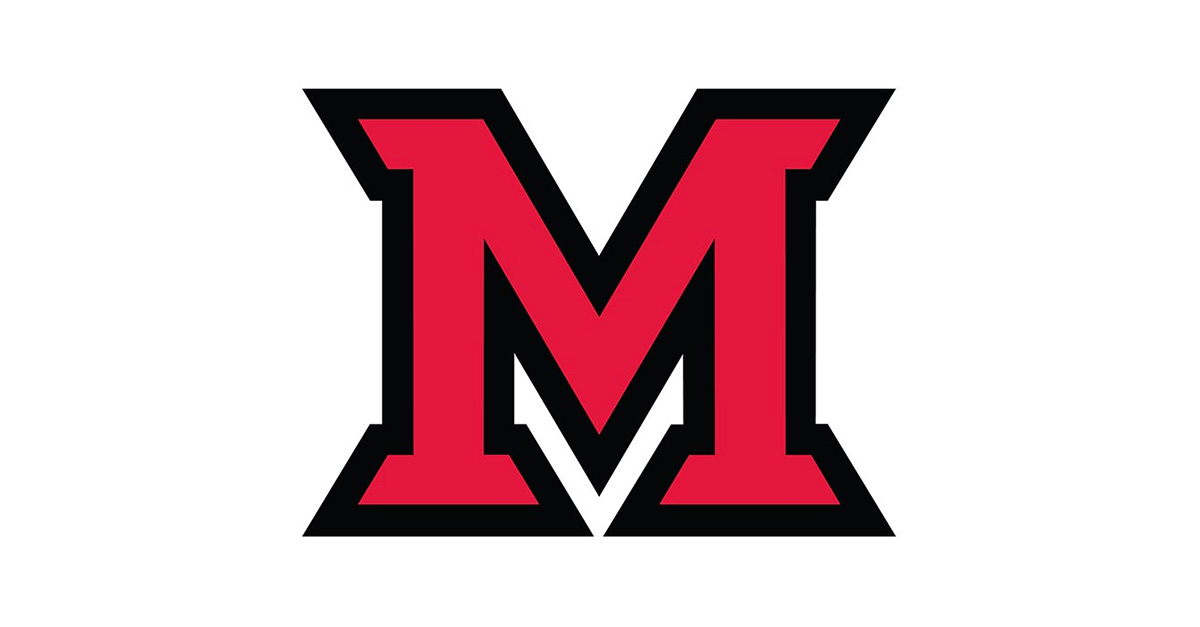 Apr 07, 2016
Humanities Center Altman Symposium April 14-15
By Susan Meikle, university news and communications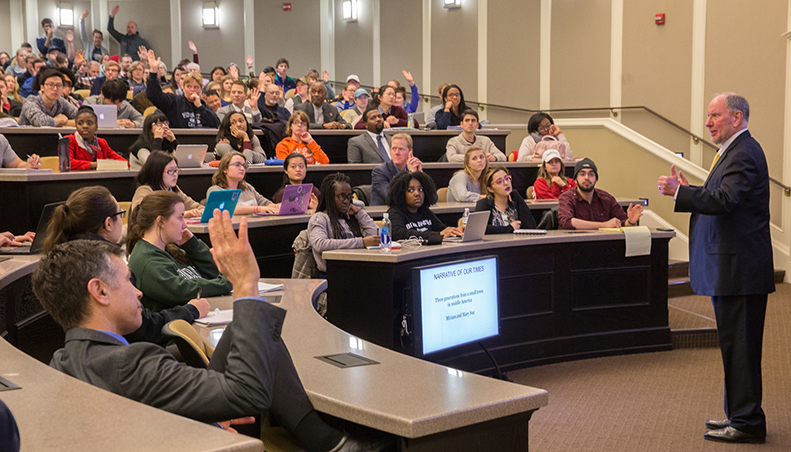 Robert Putnam spoke about his best-selling book, "Our Kids: The American Dream in Crisis," earlier this semester in a lecture co-sponsored by the Humanities Center (photos by Scott Kissell).
The Miami University Humanities Center's Altman Symposium, "The Senses and Sensation," will be held April 14-15. All events are free and open to the public; no registration is required. 
The symposium brings together invited scholars working with the Altman Fellows, Altman Faculty Scholars and Student Fellows in a series of keynote talks, research presentations and roundtable discussions. 
One of the highlights of the conference is the session in which the Altman undergraduate fellows give 10-minute lectures to the faculty and public on the research they have done this year, Tim Melley, director of the Humanities Center, said. "Our student fellows are exceptionally talented and accomplished, and visiting scholars have often remarked on the high quality of their brief lectures."  
The Altman Fellows Program is the signature program of the Humanities Center. Each year the program brings faculty and students together to address a pressing problem or issue. Its goals include fostering collaboration and new research across the humanities at Miami. 
See the symposium program for a full list of presentations.
All events are held in 212 MacMillan Hall. They include:
Altman Scholars Panel 1
1:30 p.m., April 14.
Altman Undergraduate Fellows Presentations
9 a.m., April 15: Individual research presentations by the Altman Undergraduate Fellows
Altman Scholars Panel 2
10:15 a.m., April 15
Roundtable with Altman Faculty Fellows and Scholars: "The Senses and Sensation"
2:30 p.m., April 15
Invited scholars and keynote speakers:
4 p.m., April 14: "Affect and Early Modern Sensory Boundaries" by Elizabeth Harvey, professor of English, University of Toronto.
1 p.m., April 15: "The Architectonics of Sound in Essay Film" by Nora Alter, professor of film and media arts, Temple University.
4:30 p.m., April 15: "Treating Sensory Ailments in the Age of Andreas Vesaius" by Carolyn Nadeau, Byron S. Tucci Professor of Hispanic Studies, Illinois Wesleyan University.
The Altman Program Fellows, Scholars and Undergraduate Fellows
The Humanities Center steering committee selects a team of two Altman Fellows each year who work with six or more Altman Faculty Scholars, Altman Undergraduate and Graduate Fellows and visiting scholars in a yearlong interdisciplinary exploration of key issues in the humanities. 
The program includes a faculty seminar; an upper-level course on the annual theme, team-taught by faculty fellows; an undergraduate fellows initiative, designed to promote excellence in undergraduate research; and a substantial program of public events.
Public events are entirely supported with Humanities Center funding.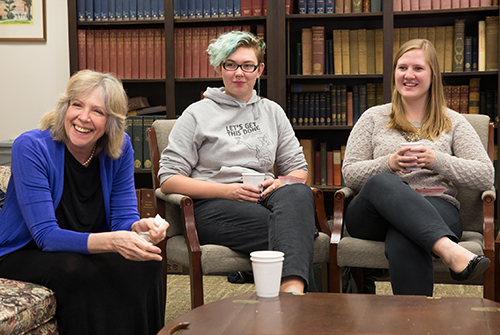 Altman Undergraduate Fellows met with Margaret Livingstone, Harvard professor of neurobiology, last fall after her Altman program lecture on "What Art Can Tell Us About the Brain."
The 2015-2016 Altman Program Fellows are Charles Ganelin, professor of Spanish, and Elisabeth Hodges, associate professor of French and Italian.
The 2015-2016 Altman Scholars are:
Andrew Casper, associate professor of art
Wietse de Boer, professor of history
Katherine Gillespie, associate professor of English
Mack Hagood, assistant professor of media, journalism and film
Ben Jacks, associate professor of architecture
Neringa Klumbyte, associate professor of anthropology
Pascal Massie, associate professor of philosophy
Elaine Miller, professor of philosophy
The 2015-2016 Altman Undergraduate Fellows are:
Nicole Cottone, senior philosophy major
Marla Guggenheimer, junior individualized studies major, sustainability co-major and Spanish minor
Grace McKittrick, senior linguistics and anthropology double major, museum studies minor
Jessie Motts, senior creative writing, French, and media and culture triple major
Magda Orlander, junior social justice studies and individualized studies double major
Cecilia Simon, junior American studies and history double major
Catherine Tetz, second-year doctoral student in English, is the Altman Graduate Student Fellow.
The Humanities Center recently announced its 2016-2017 Altman Program: "Medicine and the Humanities," with Altman Fellows Kimberly Hamlin, associate professor of history and global and intercultural studies, and Cynthia Klestinec, associate professor of English.