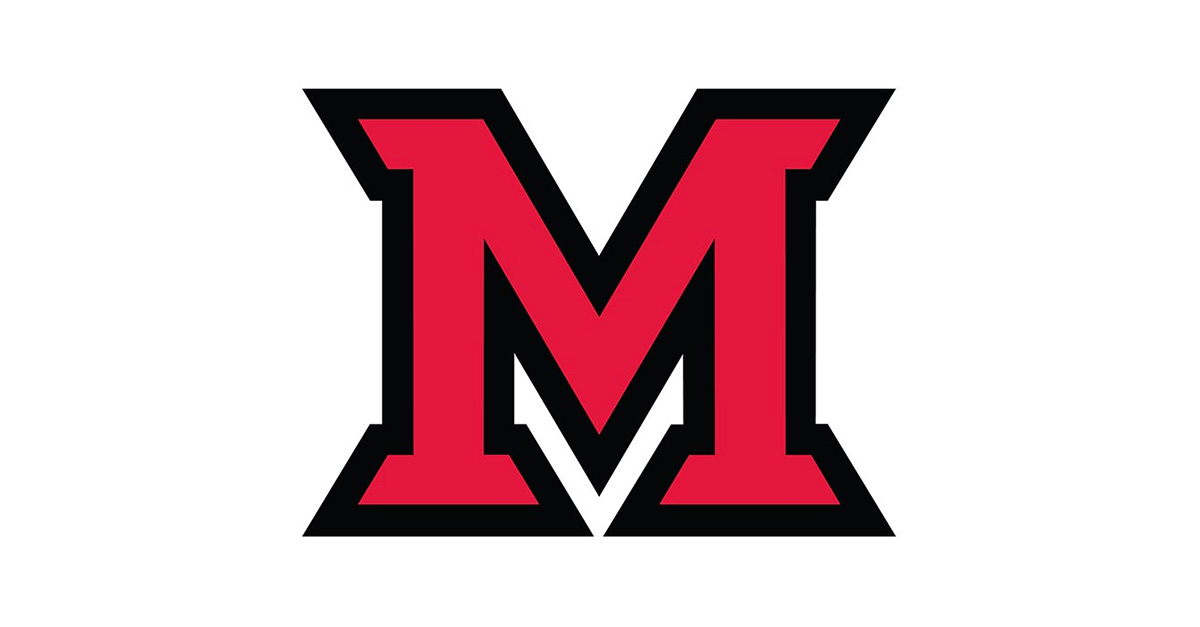 Feb 17, 2014
NSF grant project focuses on the art of inquiry in chemistry education
"... the inquiry method is definitely more in line with how we naturally learn ..." - Ellen Yezierski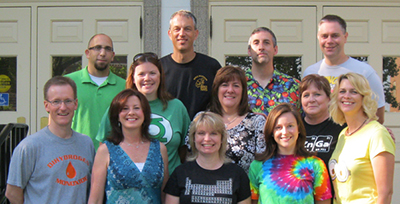 Ellen Yezierski, associate professor of chemistry, (front row, second from left), stands with the 11 high school chemistry teachers participating in the TIMU research project at Miami University aimed at improving teaching and learning.
Eleven high school chemistry teachers from the region are entering their second year of a research project at Miami University aimed at improving teaching and learning by focusing more on the inquiry method.
Fairfield High School teacher Kyle Jones, a Miami alumnus who has been teaching chemistry for eight years, said the program already is changing his approach in the classroom.
"I am more aware of the nature of science and research as I teach," Jones said. "In the past, there have been certain times when I felt that I needed to push out the content. Now, I slow down and focus on student discovery."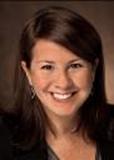 Ellen Yezierski
In 2011 Ellen Yezierski, associate professor of chemistry at Miami, was awarded a five-year, $1.35 million grant from the National Science Foundation (NSF) to launch and study a new high school chemistry teacher professional development model.
Yezierski and Ann MacKenzie, associate professor of teacher education and co-principal investigator, have implemented Target Inquiry at Miami University (TIMU). The program is designed to improve the quality and frequency of inquiry-based instruction while responding to the National Science Education Standards' call for programs that focus on inquiry integrated with learning, pedagogy (looking at teaching methods used to enhance the learning process) and student knowledge.

Ann MacKenzie
The project is in collaboration with Deborah Herrington, Grand Valley State University associate professor of chemistry and principal investigator.  Herrington received a separate $1.1 million grant to oversee and study Target Inquiry in middle and high school chemistry, biology, physics and geology teachers.

Yezierski — who came to Miami in 2010 — was previously an associate professor of chemistry at Grand Valley State, where she and Herrington created the TI model in chemistry in 2006 with NSF and other funding.

Launched at Miami in January 2013, the TIMU program supports the teachers working through the rigorous professional development program while Yezierski's research group studies how TIMU impacts the teachers and students.

"We're trying to change how teachers teach," said Yezierski, who taught high school chemistry for seven years in Arizona before going back to school get her doctorate in curriculum and instruction with an emphasis in chemistry education.
New science standards helping to drive change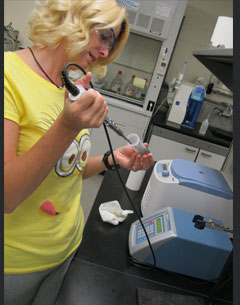 Stephanie Kimberlin, a chemistry teacher at the Live Oaks Career Technical Campus in Milford, did research last summer in the laboratory of her Miami University faculty mentor, Jonathan Scaffidi, an assistant professor of chemistry and biochemistry.
The Next Generation Science Standards that came out last spring "have inquiry features in line with the National Science Standards from the '90s," Yezierski said.  

MacKenzie noted Ohio's new science standards have inquiry as a major component to them, and the Next Generation standards have "science and engineering practices" which include inquiry processes.  Both sets of standards are supported by TIMU.  

"If you look at both of them, they parallel very nicely," she said. They cover fewer concepts but in a more rigorous, deeper way so that science education isn't just a textbook of vocabulary words.  

"Often times, it's almost like a foreign language when it's treated as a huge vocabulary list," said MacKenzie, who has a doctorate in curriculum and instruction with a science education emphasis.

Yezierski said, "The kind of teaching we're working toward in the program is not the national norm." She cited a national survey by Horizon Research released last year that verifies the predominant teaching methods in high school chemistry are lectures with discussion and intermittent verification laboratory experiments.

"If you look at that description as sort of what the national landscape of chemistry teaching looks like and then you look at the Next Generation Science Standards practices and what kids are supposed to be doing in classes, to me there is a huge disconnect," she said.

TIMU is trying to change that.

The TI model emphasizes the importance of the inquiry process in teaching and learning science by combining a research experience for teachers with curriculum adaptation and action research.

Action research is research the teachers do in their own classrooms to evaluate the effects of things they are implementing, such as new curriculum. They can then use those findings to continually improve their instruction.

The teachers began working with Miami faculty mentors last summer after taking classes at the Oxford campus in the winter and spring.

They are back on campus this spring semester for a weekly class introducing them to chemistry education research and action research. The teachers also are working with their mentors, preparing to present their research findings at the American Chemical Society's national conference March 16-20 in Dallas.
Program inspires changes to Miami alumnus' teaching
Jones called the TIMU experience very positive.

"The program has inspired many changes to my teaching, which I have been able to share with my colleagues at Fairfield," he said.

"Our district is currently preparing for the new Ohio standards. I have been able to add valuable input in the process due to this program. Instead of rushing through the changes, we are thinking more about chemistry concepts and how they fit together. Our curriculum is becoming more connected through the process."

The TIMU researchers collect observational data on the teachers to study their instruction as well as data on their students at the beginning and the end of each school year so they can track over time how the changes to teaching impact the students.

"If the instruction is improving, it should also be improving the learning outcomes for the students, so we're looking at things like scientific reasoning ability in the students as well as their conceptual understanding of chemistry," Yezierski said. They're also studying whether students' confidence in themselves to complete tasks and motivation change over time.
 
"I think the inquiry method is definitely more in line with how we naturally learn – it leads to conceptual understanding and better retention," she said.
Target Inquiry
The project is a four-year longitudinal study of the teachers, along with five comparison teachers who were chosen to both compare observational data on the teachers and student data.

The 11 project teachers can earn 15 graduate credits in coursework in the department of chemistry and biochemistry, an annual stipend, travel to regional and national meetings to present their work and a $500 school award for supplies.

Last year they took a class co-taught by Yezierski and MacKenzie introducing them to chemistry research and spent about seven weeks in Miami chemistry labs last summer doing research under the mentorship of various faculty members.  

They also took a weekly two-hour seminar led by the two women to help them translate the research into a high school chemistry classroom so they could make modifications to their course materials.

This summer they will do an intensive curriculum development experience where they will create two guided inquiry laboratory experiments piloted with their peers and approved by Miami faculty.

The teachers will focus on a larger scale implementation of their new research knowledge to the classroom by adapting and creating lessons that accurately model scientific inquiry.

"That will add to the repository of materials that are already published on the Target Inquiry site at Grand Valley State," Yezierski said, adding they will join materials from nearly 50 activities produced by three previous cohorts.

"These teachers will be adding another 22 activities," she said. "We have more than 1,900 registered users all over the world who have adopted these materials and given us feedback. It's been great to see how the teacher-created and -tested materials have been embraced by teachers all over the world."

The goal is for the TIMU teachers at the end of next summer to have these new materials to implement in their classroom.

"I think it creates a buy-in for this type of instructional material," Yezierski said, noting that the teachers will present the materials they created at the Biennial Conference on Chemical Education in 2016.

written by Margo Kissell, university news and communications, kisselm@miamioh.edu