May 15, 2015
Christopher Makaroff named dean of the College of Arts and Science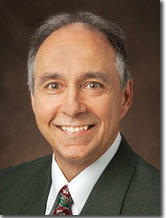 Christopher Makaroff
Christopher Makaroff has been named dean of the College of Arts and Science at Miami University effective July 1. Makaroff has been interim dean since Feb. 1 and previously served as associate dean 2012-2015.
Makaroff has taught at Miami since 1989 as a professor in the department of chemistry and biochemistry.

"A nationally recognized scholar and accomplished teacher, Professor Makaroff's commitment to excellence, his integrity, his experience in and knowledge of the college and his strong administrative skills will ensure the continued success of the College of Arts and Science," Provost Phyllis Callahan said.

Makaroff, who will serve as dean for five years, became interim dean when Callahan started as provost and executive vice president for academic affairs.

Before becoming an associate dean in August 2012, he served as chair of chemistry and biochemistry for nine years.

In 2009 he received the Miami University Distinguished Scholar award for his research accomplishments.

He is a nationally recognized scholar whose research utilizes multidisciplinary approaches to understanding the relationship of protein structure to biological function.

Makaroff earned his doctorate from Purdue University.

"The College of Arts and Science is at the center of Miami University's liberal arts curriculum. Students in the college develop critical skills and knowledge in diverse fields that prepare them for success in a dynamic, global society," Callahan said.