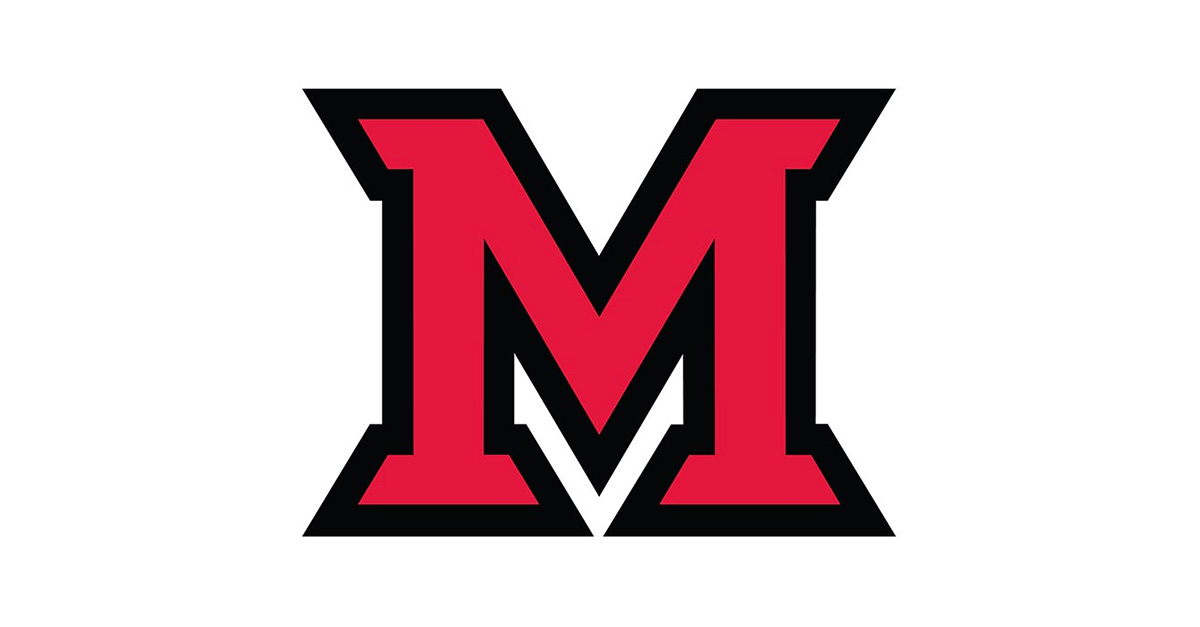 Mar 23, 2016
Miami among top schools narrowing black-white graduation gap
Miami University is noted as an exemplary university for having made great gains in decreasing the gap between graduation rates of white and African-American students in the report "Rising Tide II: Do Black Students Benefit as Grad Rates Increase?" released March 23.
Among institutions that increased their overall graduation rate from 2003-2013, The Education Trust asked whether black students are part of this improvement, and, if so, whether the improvements are at a pace that reduces gaps between black and white students.
The report lists Miami in the top 10 of its list of the "Top-gaining four-year public institutions for black students" for closing the gap between black and white students by 10.7 percentage points. Graduation rates improved by 10.5 percentage points for African-American students at Miami from 2003-2013, while overall graduation improved by 0.4 percentage point.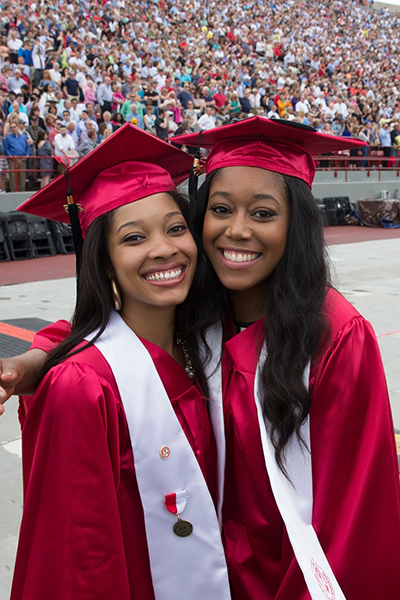 Two graduates at Miami's May 2015 commencement. Photo: Scott Kissell
Miami's graduation rates in 2013 were 81 percent for all students and 71 percent for black students. The Education Trust in its report used three-year averages to assess graduation rate change and lists Miami's rates as 80.7 percent for all students and 68.6 percent for African-American students.
Graduation rates at Miami are among the highest of public universities in the U.S.
"Miami's commitment to inclusion and inclusive experience is reflected in our values, mission, and organizational structure, as well as our formal and informal curriculum," said Ron Scott, associate vice president for institutional diversity at Miami. "We are pleased to see our progress, but our goal is to continually increase both our retention and graduation rates for African-American students."
Researchers looked at 232 public institutions that have improved overall graduation rates.
In a letter to Miami President David Hodge, Jose Luis Santos, vice president for Higher Education Program and Policy at The Education Trust, wrote, "Based on our findings, 52 institutions stood out for substantially improving overall graduation rates while also achieving gains for black students, and we have identified your institution as one of these colleges or universities that has really moved the needle for African-American students.
"We applaud the leadership at Miami University for working to improve graduation rates for black students — and close gaps between white and black students — over the last decade and have highlighted your institution for pointedly addressing completion among black students as an example for others to follow."
This paper is a continuation of The Education Trust's "Rising Tide: Do College Grad Rate Gains Benefit All Students?" report released in December 2015, that found that for African-American students, graduation rates improved at a slower rate (4.4 percentage points) than for any other student group — creating a wider gap in student outcomes than existed 10 years ago.