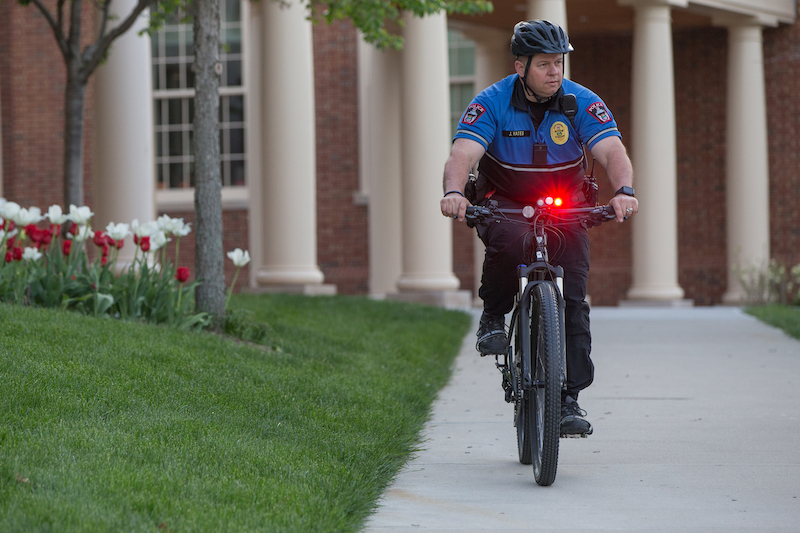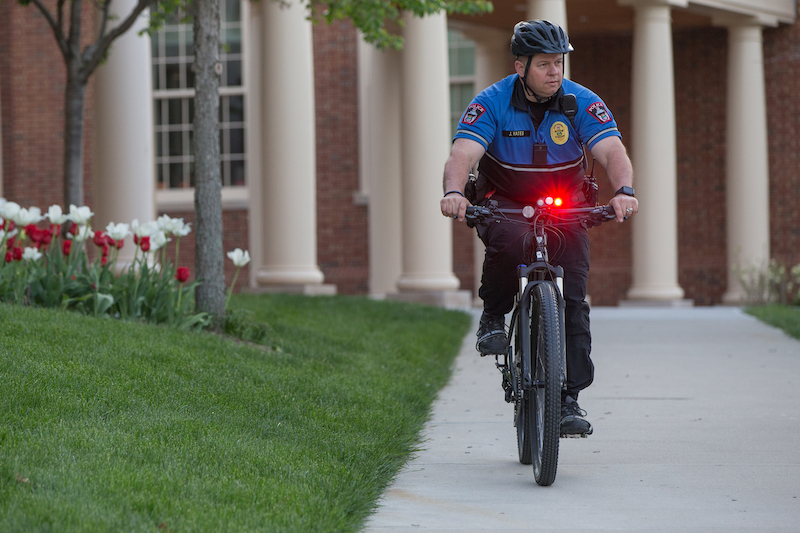 Sgt. Jerry Yates on bike patrol in spring.
Photo: Jeff Sabo
Jan 22, 2020
Miami University police among best in U.S. for campus safety
The Miami University Police Department (MUPD) is ranked ninth in the U.S. for dedication to the safety and security of the campus community.
The ranking in the 2020 Department of the Year Awards is by the National Campus Safety Summit, a national conference dedicated to discussing and improving campus safety.
Numerous factors led to the MUPD ranking.
"We believe we have saved students' lives through implementation of a Good Samaritan Policy that encourages students to call for help for friends with an alcohol- or drug-related medical emergency," said Miami University Police Chief John McCandless. The policy is implemented in partnership with the Office of Community Standards.
MUPD sergeants, detectives and patrolmen develop trust across campus sectors in a community policing program. The MUPD has mutual aid agreements with 12 entities, from law enforcement to school districts and a hospital. The department works especially closely with the Oxford Police Department to protect the 9,000 students who live in town and to support safety for the city's 7,000 residents.
The department's K9 unit completes K9 duties for Miami and for a 12-county tri-state region of Southern Ohio, Southern Indiana, Northern Kentucky and the Urban Areas Security Initiative region designated by the Department of Homeland Security. The team also deploys with other regional Explosive Detection K-9 teams in response to explosive-related incidents.
The MUPD, already providing sensitive response to sexual assault victims/survivors, is a core member of the new Office on Violence Against Women (OVW) Grant Team led by Student Health Services at Miami. These grant programs are designed to develop the nation's capacity to reduce domestic violence, dating violence, sexual assault and stalking by strengthening services to victims and holding offenders accountable.
"Our police are highly trained and caring professionals," said David Creamer, senior vice president for finance and business services. "Their interactions with students, employees and the Oxford and Greater Cincinnati communities show how seriously they take their jobs to serve and protect."
The MUPD is a 2017 graduate of the Clery Compliance Officer Certification Program. MUPD's Clery coordinator has attended several National Association of Clery Compliance Officers and Professionals (NACCOP) annual conferences and recently, a captain and lieutenant attended NACCOP's Foundations of the Clery Act classes.
The police department was also on this list for top campus departments in 2015.