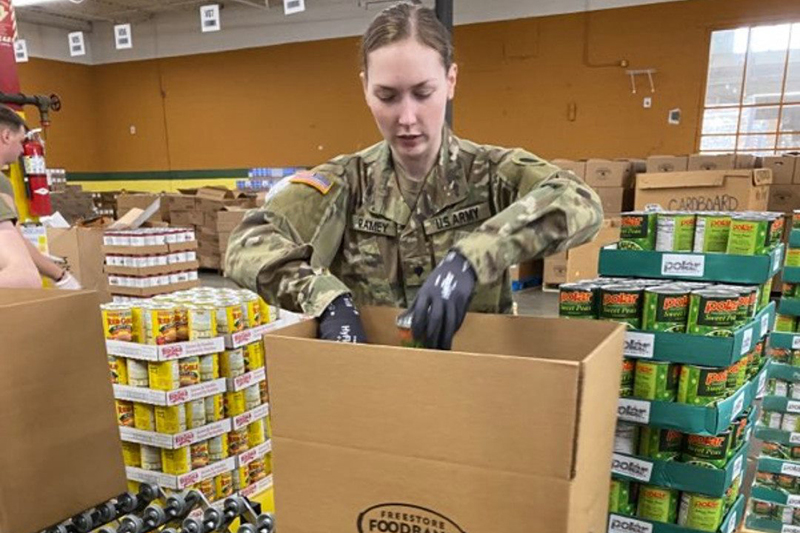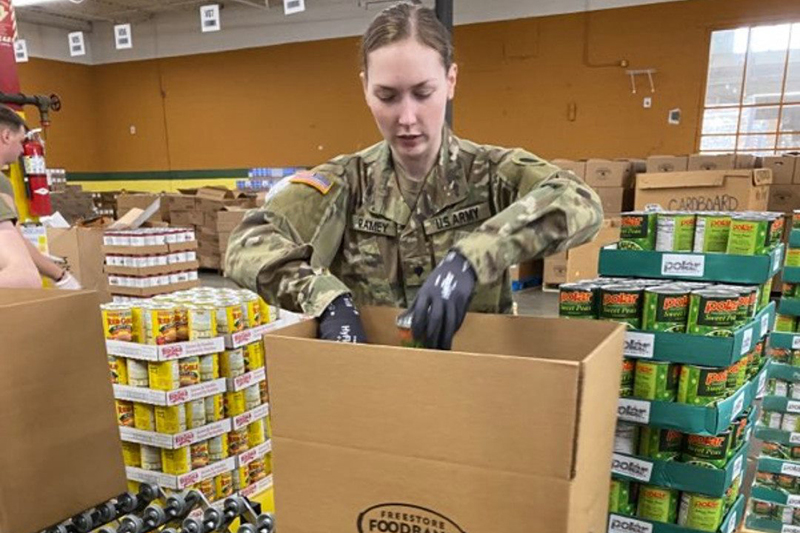 Amanda Ramey, a Miami student and National Guard member, packs a box of food. (Photo taken before masks were required.)
Photo: Freestore Foodbank
Apr 23, 2020
Miamians serve with the Ohio National Guard at area food banks
The experience is rewarding and humbling
By Kristal Humphrey, university news and communications
Miamians Kristin Cupido and Amanda Ramey were among those who volunteered when Ohio Gov. Mike DeWine authorized the activation of the Ohio National Guard to support a humanitarian mission in response to the COVID-19 pandemic.
Cupido, assistant cross country/track and field coach, and Ramey, a junior urban and regional planning major who is in the Army ROTC, volunteered to support Operation Steady Resolve. Both are helping with their units at area food banks.
Cupido, who has been a member of the 837th Brigade Engineer Battalion for four years, is working at The Foodbank in Dayton. Ramey, a member of the 237th Delta Company for almost three years, is at the Freestore Foodbank in Cincinnati.
Both of them, along with others in their units, are standing in for the many volunteers who can't help due to the stay-at-home order. Because of the decrease in volunteers and the increase in those who need food, their help is needed.
"When the COVID-19 storm hit, we went from a team of 31 to 20. Families new to our food insecurity lines grew by 68% overnight," said Michelle Riley, CEO of The Foodbank, Inc. "If not for the National Guard, we could not do this important work. We are proud to work alongside this amazing team."
How they serve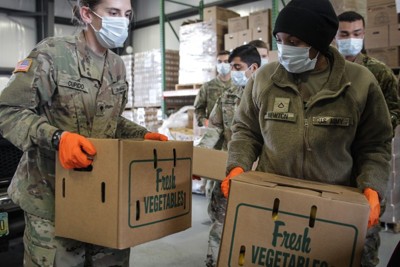 Kristin Cupido (left) and other Guard members move boxes of food at The Foodbank. Photo courtesy: Dayton Daily News/Marshall Gorby.
As a member of that team, Cupido spends 7 a.m.-3 p.m. Monday-Friday at the food bank. Part of that time is spent packing boxes of dry goods, canned food, drinks and other items, as well as helping with other things in the warehouse.
The rest of her time is spent working in the drive-thru, where they load the boxes of dry goods as well as boxes of fresh produce and meat into people's vehicles. It is scheduled to be open 10 a.m.-noon on Monday-Friday but is often open longer because of the long lines.
Cupido said they sometimes open early and will always stay open as long as it takes to serve anyone still in line at closing time. One day recently, she said they were open 9 a.m.-2 p.m. and served more than 800 families.
Like Cupido, Ramey packs boxes of food, but she also helps deliver them. They do Mobile Market missions with the Freestore Foodbank, and every week, they also use military vehicles to take food to points of distribution (PODs) in underserved communities in Cincinnati.
They give out food at these PODs/drive-thrus with the Freestore and Shared Harvest food banks and feed an average of 750-800 families per event. Two weeks into the mission, they had distributed more than 1 million pounds of food.
"We experience the complete process," Ramey said, "We pack boxes, load them, transport them, unload them and get to see the people who receive them."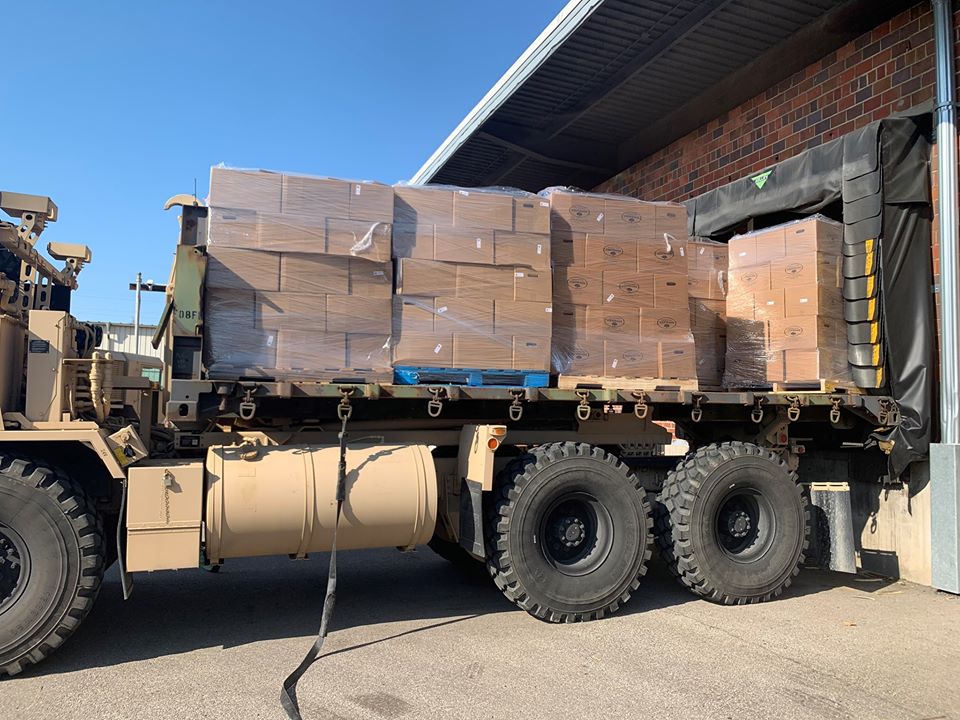 A truck ready to take eight pallets of food to PODs. Photo courtesy: Freestore Foodbank
They also take boxes to a homeless shelter in Adams County once a week. They recently took 16 pallets of canned and frozen items to the shelter.
Trisha Raynor, chief external affairs officer for the Freestore Foodbank, said families who have never needed help feeding their family are suddenly looking for ways to put food on the table.
"We could not meet the increased demand without the National Guard," Raynor said. "They are critical to our mission."
Ramey and her unit have first formation (clock in) at 7:30 a.m. and are released at 5 p.m. They spend 8 a.m.-3:30 p.m. at the food bank and the rest of the time doing things like paperwork and taking care of their trucks.
A rewarding, challenging and humbling experience
Both Ramey and Cupido are glad to be helping in their own state.
Ramey says the experience has been challenging but also the most rewarding thing she's done in her life.
"Some days are incredibly long, and I want nothing more than to go home and relax, but then I remind myself that every box I pack is one more family that can rest easy," she said. "A day with a delivery means between 750-1,000 families go home and know their children are going to be able to eat."
Cupido said people are allowed to come to the Dayton food bank drive-thru once a month, and it's amazing to see how many people consistently come through the line.
"People are relying on that food to get them through the month," she said. "Some people are thanking us and crying when they get their food. It's definitely a very humbling experience."
Being a role model and helping others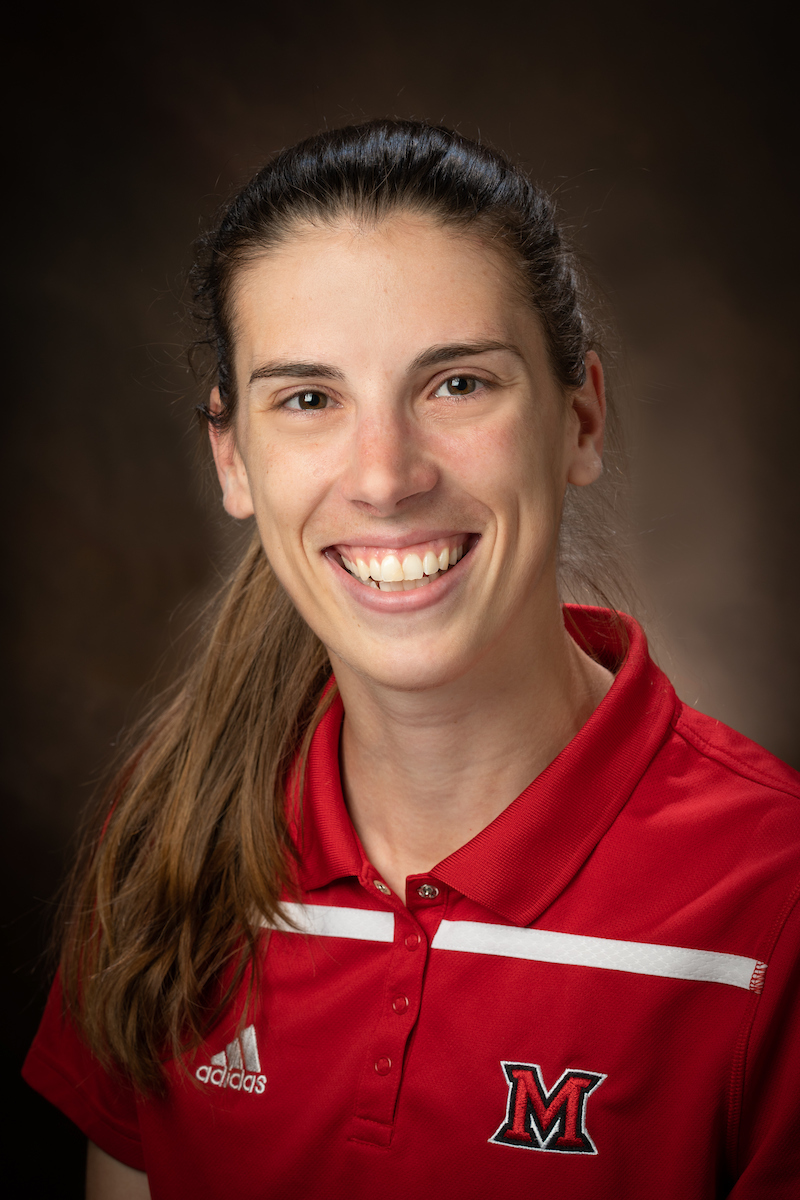 Kristin Cupido
Ramey said being in the Army National Guard is one of the most enriching things she's done, and she joined because she wanted to be a good role model for her younger brother. He had always wanted to be active duty in the Army, and she wanted to show him that if she could do it, he could too. He is now at Fort Campbell, Kentucky.
Cupido said she had thought about joining the National Guard, and about four years into collegiate coaching, she decided to do it.
"As cliché as it might sound, I wanted to be able to help others. That's also why I got into the coaching profession," Cupido said. "I'm able to do two things I love: the Guard and coaching."
Note: The Foodbank and the Freestore Foodbank are not accepting food donations at this time but will accept monetary donations to help provide for the increased need.