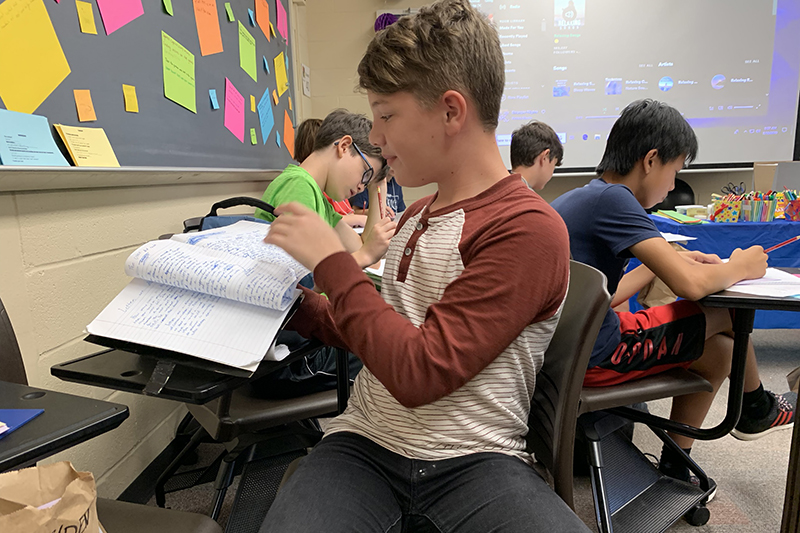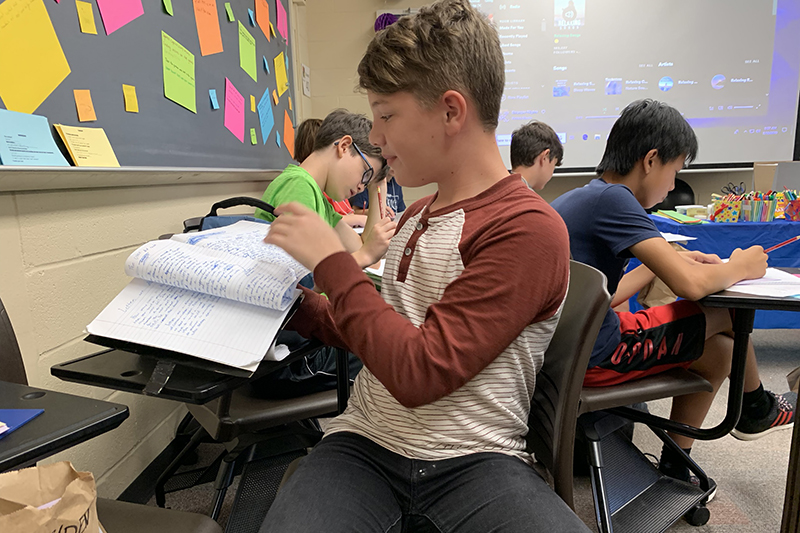 The Ohio Writing Project at Miami works with teachers on teaching writing and provides students opportunities to create.
Photo: Ryan McSheffrey
Aug 29, 2019
Miami's Ohio Writing Project celebrates 40 years
What do you get when you combine six random words? A story, of course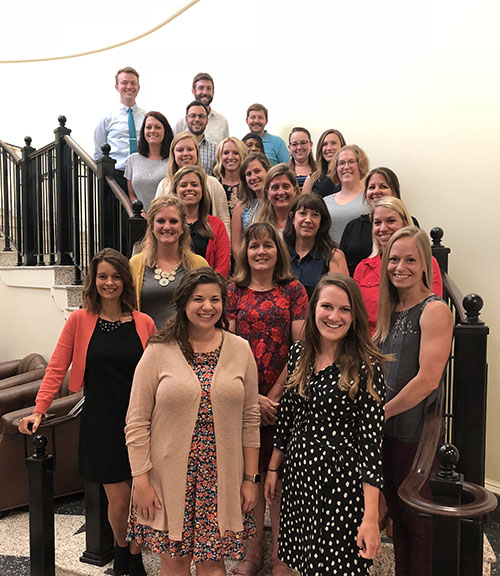 English candidates in the masters of arts in teaching program learn strategies and processes to help their K-12 students write.
By Ryan McSheffrey, university news and communications intern
Narwhals. Pufferfish. Toothpaste. Avocados. Ugly. Jump. When you give middle school students six words and five minutes to write a story, you never know what they're going to come up with.
That exercise is one among many that campers — rising fifth through eighth graders — participated in at the Ohio Writing Project (OWP) Youth Writing Camp, held at Miami University this summer, which aimed to hone campers' writing skills.
Sharing their thinking through words — "crucial"
The camp is part of the Ohio Writing Project, which is celebrating its 40th anniversary this year. It was founded at Miami by Mary Fuller, professor emerita, and the late professor Max Morenberg in 1980 as part of the National Writing Project.
Miami is the first national site for the Ohio Writing Project. The project developed a workshop on teaching writing to K-12 teachers. To date, 2,271 educators have participated in Miami's program, sharing professional practices and publishing their own work.
Miami's Ohio Writing Project benefits K-12 students, works alongside local teachers through school professional development and, in 2004, began overseeing the English candidates in the master of arts in teaching program. More than 400 students have graduated from the program since 2004, and more than 40 are currently enrolled.
Its core principles of working with teachers as writers and teachers teaching teachers are still central, but the educational landscape is different.
Beth Rimer, co-director of the writing project, explains that today's educator must incorporate digital literacy, civic literacy and multi-genre writing. In addition, students and teachers must adapt to personalized learning and new testing environments.
"Throughout all of these changes and more, students' ability to communicate and share their thinking through words is crucial," Rimer said. "We provide teachers with foundations and new strategies and processes for supporting students in all manners of literacy."
Write, revise, learn
Throughout the weeklong youth writing camp, students were guided through the creative process of writing a piece. Students received prompts their first three days and eventually chose to focus on one of the prompts.

"They spend a good chunk of the time writing, composing and revising and learning about being a writer," Rimer said.

Campers learn how to use voice while writing and confer with teachers and peers on how they can improve their pieces.

The camp combines writing practice with traditional summer camp activities. The culminating event is an open-mike-style reading for friends and families.
Teacher conference up next for Ohio Writing Project
The Ohio Writing Project is celebrating its 40th anniversary with events throughout the year. This fall, it will host a teacher conference Sept. 21, a weekend workshop for K-12 teachers in November, a professional lecture series, and a community screening of the PBS documentary, "American Creed."